Srabani Mallick
In the world of fashion, we can't think of anything as an alternative to denim. Jeans have won the hearts of people of all ages all over the world.  For many years jeans have found a place in the clothing of rich-poor, celebrities and ordinary people.  Clothing identifies the social culture and traditions of a country.  Jeans have become a traditional garment in almost every country of the world over the years.  The popularity of denim in the world can be understood by looking at the data and statistics of the denim market.  It does not need to be washed or ironed often and does not tear easily.  For this special feature, it has occupied the top of the garment. Fashion lovers are always interested in new fashions. So every year different types of changes can be noticed in denim fashion. New and attractive denim trends greatly increase the demand for denim. Let's see different types of denim trends for men, women and kids in 2023.
For Men
Paneling: Paneling is where multiple pieces of jeans from different types of denim are sewn together.  These types of jeans are usually made of multiple colors and materials. Also, multiple shades of blue are attached to the panel.
Wider fits: These types of jeans gradually widen until the bottom part comes out almost like a skirt. Its work-style jeans with a loose-fitting cut that is light and comfortable to wear. Here work wear denim is used instead of twill denim. This type of denim is perfect for casual styling.
Embroidery: Embroidered denim is a great way to revive and modernize old or vintage jeans that give the jeans a kind of homemade DIY look. These types of jeans are embellished with different types of embroidered floss, so it has evolved as a way to showcase a personal style. Extraordinary fashionable jeans are created by placing designs in different fun colors and embroidering.
Distressing: This type of jeans is similar to paneling and embroidery which is an easy way to create DIY aesthetics. Distressed jeans can look faded, bleached or ripped. The trademarks of this look are irregular, often fade in color, and strategically placed slits across the front leg area and pockets. The demand for this type of denim is increasing with time. Although the color washes and shapes change with each season, it is safe to say that the popularity of this style never seems to fade.
Exaggerated: Jeans are sewn under the feet to prevent the fabric from tearing, which is called a hem. The excess fabric helps to achieve an exaggerated hem. If the fabric in jeans is too long, they should be short (called 'hemmed') or cuffed. Folding, turning up or cuffing has become the default way to wear jeans for many denim heads. Turning up jeans creates a different look to denim. Cuffing jeans are a practical way to cut and shorten without sewing which is also great to look at.
Unusual Cuts: Currently we are seeing more jeans in other cuts such as flares and bootcut style jeans. Bootcut jeans are usually slim through the hip and waist.
For Women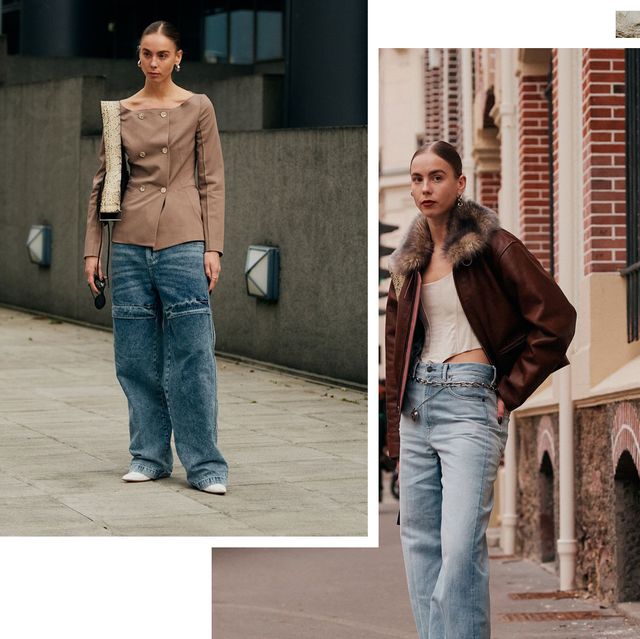 Baggy Jeans: Wide-leg jeans or baggy pants are a garment that was popular from the early 1990s to the mid-2000. Any pair of jeans that are not skinny or fitted are considered baggy jeans. Some of the other terms for baggy jeans like boyfriend jeans, mom jeans and dad jeans. These jeans have design elements like distressed finish, raw hems, and deconstructed materials. Baggy jeans are incredibly versatile. Baggy jeans are a great outfit for casual outings such as a solo afternoon walk and easy to move over long periods of time. Also, the styles are ideal for festive fashion.
Denim Midi Skirts: The denim midi skirt is predicted to be a big comeback this season. The denim midi skirt is made of comfortable cotton fabric with a stylish wash, belt loop, feminine slit and classic pockets. The stylish trendy denim midi skirt is made of a beautiful cotton blend. This skirt is multipurpose and easy to wear.
Dark Wash Denim: In the dark wash process, dark-colored denim is washed during production which is the best way to polish denim instantly. The dye gives it a soft touch and adds a unique texture by dipping it into a darker dye. These types of jeans usually look good with a long deep coat and blazer. They are comfortable and chic.
Denim Dresses: Denim dress is a typical East-Met-West style.  These dresses are made of softer fabric than jeans so they are light and comfortable. From everyday work to hanging out with friends, even on semi-formal occasions, these dresses are suitable.
Patchwork Denim: Patchwork denim has been popular since the '70s, combining at-home arts and crafts.  These jeans are soft, anti-sensitive, super breathable and comfortable to wear.  So denim patchwork pants are very trendy nowadays!  These types of pants can be paired with basic tops or jackets to create fashionable dresses. Initially, these pants were mostly hand-stitched and DIY patches but now a more attractive style is being created by combining a bunch of different denim washes and textures.
Embellished Denim: Embellishment is something that enhances the look of clothing or fashion accessories by adding decorative items through the use of visual art. Various modern decorating methods for decorating fabrics or garments make them more modern.
Cargo Jeans: Cargo jeans are gaining popularity in the current fashion.  Cargo pants or combat pants are mainly used as military work clothes. Loose-fit pants are mainly designed for rough work, environment and outdoor activities.  It is also distinguished by numerous large utility pockets for carrying equipment.
For Kids
Denim Jeans: When children eat or drink or play outside, mud or dirt can get on children's clothes.  Jeans are more effective at hiding stains than other pants and when kids wear jeans, they don't need to wash them every time. Jeans are hypoallergenic, so it prevents skin allergies.  Kid's jeans are available in a variety of colors and styles.
Denim Shorts: Shorts are a garment that is a short version of the trousers. It is worn in the pelvic area which covers the upper part of the legs, sometimes extending to the knees but does not cover the entire length of the legs. These types of pants are usually worn by children in warm weather where comfort and airflow are more important. This type of dress can also be worn as formal attire.
Denim Shirts: Denim shirts are a classic style that is comfortable, durable and increasingly versatile.  Most denim shirts are made from a blend of fabrics that are applicable to formal dressing.  These trendy outfits are paired with skinny jeans to create sophisticated outfits for young children.
Denim Jacket: Denim jackets are children's winter coats made of pure cotton. The Denim jacket is lightweight and breathable.  It can ensure a touch of elegance and formality when attached to any item of clothing.
Denim Joggers: Denim joggers are now gaining popularity in children's fashion.  Surprisingly fits casual styling.  Denim joggers typically create beautiful match-ups with trendy jumpers, minimalist sweatshirts or more sporty designs that will make your kids look cool and attractive. They are an ideal blend of comfort and style that can be paired with anything from formal shirts to sleeveless tops.
Conclusion
In conclusion, the demand for denim cannot be limited to any particular season. Many of us think that denim clothing may be used in winter but there are some types of denim that are very light and thinner than normal denim which fashion lovers can style all year round.
References: